New Encyclopedia of Gardening Techniques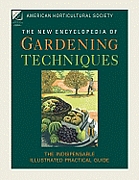 Author:
David J. Ellis, Fiona Gilsenan, Rita Pelczar, and Graham Rice (editors)
Publisher:
Mitchell Beazley
cloth, 480 pp., $45.00
This important reference work from the American Horticultural Society covers a broad range of gardening subjects, emphasizing the latest accepted gardening practices. Beginning with a review of the fundamentals of plant culture, the hefty tome then, rather surprisingly, turns to creating a wildlife habitat. The editors then direct the reader to the customary topics of the care of ornamental and utilitarian plantings, instructions on specialized gardening, and gardening under glass. The final chapter on plant propagation contains a detailed examination of sexual and asexual reproduction methods. Lavishly illustrated with photographs and colorful explanatory drawings, this volume is distinguished by its emphasis on the newest practices in horticulture aimed at the home gardener.
— Marilyn K. Alaimo, garden writer and volunteer, Chicago Botanic Garden