Nature's Palette: The Science of Plant Color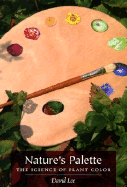 Publisher:
University of Chicago Press
In his wide-ranging discussion, biologist David Lee explores the history and character of plant color. Touching on the chemistry of coloration and using illustrations to depict the pigment molecules that determine specific colors, he reviews the physics of structural colors in a technical narrative on light and vision. The well-illustrated text includes chapters on the significance of color in leaves, flowers, fruits, seeds, stems, and roots. The author answers such questions as what are the causes of patterns and iridescence in plants; how does coloration play a role in plant pollination; and why do leaves turn red. The book provides fascinating reading with the author's anecdotes and information on the influence of plant color in human history.
— Marilyn K. Alaimo, garden writer and volunteer, Chicago Botanic Garden