Middle East Garden Traditions: Unity and Diversity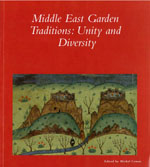 Author:
Michel Conan (editor)
Publisher:
Dunbarton Oaks Research Library and Collection (distributed by Harvard University Press, Cambridge, Mass.)
This work, edited by Michel Conan, director of garden and landscape studies at Dumbarton Oaks, contains contributions from notable authorities, mainly from the Middle East, from a colloquium that was held in Washington, D.C., in 2007. The theme of the discussion, garden traditions of the Middle East, emphasized that there was much greater variety to consider in gardening traditions than that previously identified by Western experts (with their emphasis on aesthetic design elements). One prime example was the political use of gardens to call attention to the supremacy of the ruler. The extensive use of water in a garden's design and maintenance are an expression of power. These scholars also provide recent information based on garden archeology that reveals the economic uses and diversity of gardens at all levels of society. Despite their differences and complexity, there was a certain unity in these gardens as a result of common influences. This intriguing and significant collection of papers is extraordinarily enlightening.
— Marilyn K. Alaimo, garden writer and volunteer, Chicago Botanic Garden