Medicinal Plants in Australia. Volume 3 — Plants, Potions, and Poisons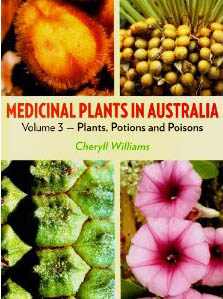 Author:
Cheryll J. Williams
Publisher:
Rosenberg Publishing
decorated boards, 472 pp., $89.95
Australian author Cheryll Williams is more than familiar with the potential of numerous plants that inhabit this continent. As a qualified acupuncturist and medical herbalist of long experience, she is familiar with prehistoric survivors that have long been a source of both sustenance and perilous consequence to humans. This volume begins with an introduction to toxic plants; it continues with a discussion of irritant poisons, caustics and corrosives, fish poisons, and other irritants. To even out the score with toxins, the author discusses the art of detoxification. The book is heavily illustrated in full color with photographs of poisonous flora and traditional remedies. Some of the descriptions of medicinal plants include a review of those considered to have cancer-fighting potential.
— Marilyn K. Alaimo, garden writer and volunteer, Chicago Botanic Garden