Medical Authority and Englishwomen's Herbal Texts, 1550–1650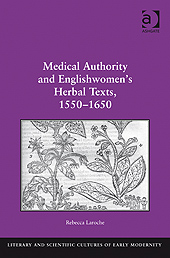 Publisher:
Ashgate Publishing
Cloth, 196 pp., $99.95
Even though women served in important positions in the early modern period in the medical field through their collection and preparation of herbs for medicine, as well as their intuitive care of patients, it is apparent from the studies of herbals presented by the author that there was a system of hierarchies that excluded female participation in nearly all profitable occupations. Author Rebecca Laroche analyses the herbal texts written by both men and women during this period, noting the different approaches to readers' genders by authors. Women had fewer opportunities to read herbals and when they did, they often inscribed the works. Some readers may find the libelous tactics of medical professionals during this period rather astounding.
— Marilyn K. Alaimo, garden writer and volunteer, Chicago Botanic Garden