Long-Term Dynamics of Lakes in the Landscape: Long-Term Ecological Research on North Temperate Lakes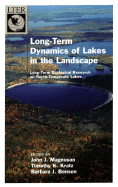 Author:
John J. Magnuson, Timothy K Kratz, and Barbara J. Bensen (editors)
Publisher:
Oxford University Press
decorated boards, 400 p., $89.95
In this comprehensive report from ecological research on lakes located in Wisconsin, the editors present the findings from the North Temperate Lakes Long-Term Ecological Research [LTER] program, conducted by scientists over several decades. The particular value of this research is that it was done over space and time, so scientists could see both short-term and long-term dynamics of lake ecosystems. The book contains three themes: theoretical approaches to long-term landscape ecology, the various forces affecting lake ecological dynamics, and developing and implementing long-term ecological research. Contributing authors discuss such topics as the importance of water movement across the lakes, the influences of geographic positioning, the effects of isolation on biological structure, and a comparison of lakes to other ecosystems. They look at such factors as climatic variability, acid rain, invading exotics, internal lake processes, and the effects of humans on lake dynamics. Those interested in research of landscape ecology will find this essential reading on the subject.
— Marilyn K. Alaimo, garden writer and volunteer, Chicago Botanic Garden