Llewellyn's 2010 Herbal Almanac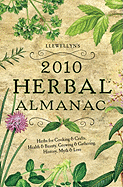 Author:
Sharon Leah (editor)
Publisher:
Llewellyn Worldwide
paper, 307 pp., $9.99
Beginning with the culture and harvesting of these familiar plants, contributing authors in this collection of essays direct the reader's attention to the wonderful world of herbs and their myriad uses. Herbs are employed in cooking, old-fashioned medicinal remedies, beauty treatments, as well as craft projects. They have a long history and are the subjects of myths and lore. According to this work, the potent usage of herbs is often connected with phases of the moon, so this book contains a lunar calendar (or moon table). The publisher cautions the reader, noting that "the old-fashioned remedies in this book are historical references used for teaching purposes only."
— Marilyn K. Alaimo, garden writer and volunteer, Chicago Botanic Garden