Little Farm in the Foothills: A Boomer Couple's Search for the Slow Life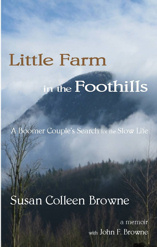 Author:
Susan Colleen Browne and John F. Browne
Publisher:
Whitethorn Press
paper, 205 pp., $14.00
Describing their yearning for a return to nature and a slower–paced lifestyle, author Susan Browne and her husband, a retired policeman, trace the origins of this sentiment in a deeply personal story. Raised in a city, she longed for "outdoor space," which she found in a new suburb. Over time its eventual over–development left the couple longing for a place in the country where they could grow their own food. The story of the complications that went with this search for a rural site to homestead reveals the hopes and foibles of a couple in pursuit of their "Great American Dream."
— Marilyn K. Alaimo, garden writer and volunteer, Chicago Botanic Garden