Light and Plant Development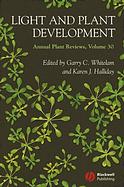 Author:
Garry C. Whitelam and Karen J. Halliday (editors)
decorated boards, 325 pp., $199.99
Considered the most important factor in plant development, light energy varies according to environmental conditions. Recognizing the differences in habitat, plants have responded to light quality, amount, direction, and timing by regulating certain processes, such as germination and patterns of growth. This collection of essays by contributing international scientists, edited by prominent leaders in the field of biology, reflects the cutting edge of knowledge of higher plant regulatory systems. Graduate students, scientists, and professionals will find this volume contains the most up-to-date reports on how plants adapt to changes in light energy.
— Marilyn K. Alaimo, garden writer and volunteer, Chicago Botanic Garden