Landscaping with Fruit: A Homeowner's Guide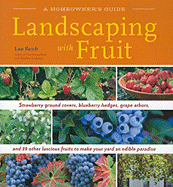 Publisher:
Storey Publishing
paper, 191 pp., $19.95
If achieving a fruitful, sustainable garden is the goal of a gardener, this guide to landscaping with edible fruit is an ideal introduction to planting for both beauty and food. In this well-organized book, the reader will learn the basics of design, site analysis, plant selection and care, in addition to numerous other tips on plant culture for a successful harvest. The text includes the listing of a wide range of fruit, suitable for the home grounds. Each plant profile contains information on its average yield; heat and cold hardiness; pollination requirements; desirable characteristics of individual fruit; where it grows best; ultimate plant size and growth habit; as well as growing and harvesting tips. Delightfully filled with design plans and imaginative drawings that convey the many possibilities of creating a charming, utilitarian garden, the book is truly inspiring for novice and experienced gardeners.
— Marilyn K. Alaimo, garden writer and volunteer, Chicago Botanic Garden