Kitchen Table Sustainability: Practical Recipes for Community Engagement with Sustainability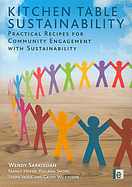 Author:
Wendy Sarkissian, Nancy Hofer, Yollana Shore, Steph Vajda, and Cathy Wilkinson
Publisher:
Earthscan (distributed in the U.S. by Stylus Publishing, Herndon, Va.)
paper, 373 pp., $32.95
In writing a practical guide for achieving sustainability of the environment through community involvement, the authors — all experienced in the field of community planning — offer insights into strategies to maintain an enduring ecosystem. Using the metaphor of the kitchen table, the authors urge all citizens to express themselves in community development. Only through mutual respect of fellow citizens and their values can planning options succeed. To put it more succinctly, successful community planning starts from the bottom up.
— Marilyn K. Alaimo, garden writer and volunteer, Chicago Botanic Garden