Keepers of the Trees: A Guide to Re-Greening North America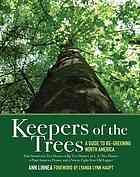 Publisher:
Skyhorse Publishing
Cloth, 260 pp., $24.95
Botanist Ann Linnea has gathered the biographies of 14 people, including herself, who have found inspiration and a special connection with trees. Although each story is different, the author contends that "all of them contribute to our scientific, educational, and spiritual understanding of the essential nature of our tree-human interdependence." Some have interest in propagating and pruning the tree population, while others manage timber resources through harvesting the woody perennials, pursue scientific research in the arboreal field, and even create works of art as a carver of trees. Following these very personal journals, the author supplies a listing of information on tree-keeping resources, recommended reading, and suggestions for those interested in becoming a tree advocate.
—Marilyn K. Alaimo, garden writer and volunteer, Chicago Botanic Garden