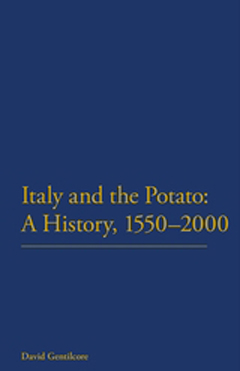 Cloth, 243 pp., $110.00.

Gentilcore's Italy and the potato is a surprising and quite entertaining examination of the "world's most cultivated vegetable." The author, professor of early modern history at the University of Leicester, weaves a complex story of the potato's arrival as a staple, starting in the early nineteenth century. Gentilcore demonstrates the influences of the Napoleonic wars, far-away volcanoes, aristocrats, do-gooders, and peasants in the spread of the potato. I found particularly exciting recipes distributed throughout the text, from an "economic" stew served in Naple's most important orphanage (ingredients include potatoes, beans, barley, kidneys, and chili peppers) to pasta and potato soup.

Gentilcore certainly examines the difficulties that the potato faced in being accepted in Italy even with many a potato "apostle" preaching about the nutritional and financial benefits of this amazing vegetable. In spite of the potato's availability since the middle of the sixteenth century (Pietro Andrea Mattioli discussed the potato in his herbals), it took many detours before becoming part of Italian cuisine. The potato in part benefited from government policies, taxing "goods milled into flour" as well as attempts to encourage diverse, healthy diets to counter pellagra and other diseases.

Overall, Italy and the potato is a wonderful book. Its only demerit is its high price; this book deserves a larger audience but its price tag will keep many a reader (and library) away. – Edward Valauskas, Curator of Rare Books, Chicago Botanic Garden.