Italian Gardens: Romantic Splendor in the Edwardian Age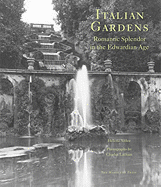 Publisher:
Monacelli Press
cloth, 192 pp., $65.00
Journalist Helena Attlee has chosen more than 200 black and white photographs by a prominent landscape photographer of the Edwardian period, Charles Latham, to summon forth the romantic, ethereal character of the 15th and 16th century gardens of Rome and Tuscany. She describes the backgrounds and the current status of these sleeping beauties in this intriguing story of famous sites in Italy. Not only does the author explain the history and design of each garden, but she also reveals their individual owners' foibles and motives for their construction. She reports on the historical factors that influenced the creation and destruction of these gardens, as well as the impact of expatriate owners on individual properties. Attlee is remarkably adept at spinning together both the scholarly and anecdotal information into a fascinating narrative that is appealing to all readers of garden history.
— Marilyn K. Alaimo, garden writer and volunteer, Chicago Botanic Garden