Invasion Ecology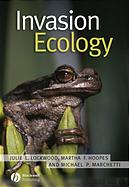 Author:
Julie L. Lockwood, Martha F. Hoopes, and Michael P. Marchetti
Paper, 304 p., $69.95
Designed as a college textbook for advanced study in ecology, this book serves as a primer on the subject of species invasion into native habitat. As the authors point out, there is an increase in the negative effects from such movement, as nonnative species take over, pushing native ones into new ranges. They discuss terminology; provide an overview of research findings in each stage of the invasion process from transport, establishment, and spread to eventual impact; and suggest the evolution and management of these invaders. Well referenced and illustrated with tables and graphs, this technical text is an excellent starting point for further studies by advanced undergraduates as well as graduate students in the science of biological invasions.
— Marilyn K. Alaimo, garden writer and volunteer, Chicago Botanic Garden