Intracellular Signaling in Plants (Annual Plant Reviews, volume 33)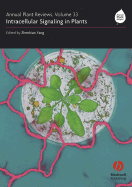 Author:
Zhenbiao Yang (editor)
Publisher:
Wiley–Blackwell
cloth, 430 pp., $225.00
Suitable reading for graduate students and scientists, this review by contributing authors in the field of plant biology is devoted to plant cell signaling mechanisms and how they are constructed to form networks between cells. Scientists recognize that sessile plants respond quickly to changes in the environment; they adjust their growth patterns and behavior accordingly. The authors further observe that signaling mechanisms and strategies need to be better understood so that scientists can monitor relevant processes in networking systems. The contributing authors provide extensive details on their current research, illustrating the text with tables. Although there has been "tremendous progress in recent years," editor Zhenbiao Yang points out that there are still many "unanswered questions and challenges" awaiting future research.
— Marilyn K. Alaimo, garden writer and volunteer, Chicago Botanic Garden