Icons of Twentieth-Century Landscape Design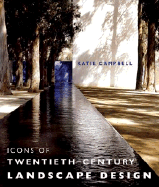 Publisher:
Frances Lincoln
hardcover, 176 pp., $45.00
In this collection of works by prominent landscape architects, landscape designers, and architects, British writer Katie Campbell has selected 29 innovative landscapes across three continents. The author describes in a pleasing literary style the imagery of these masterful designers. Handsomely illustrated with photographs, the text relates the intent of each site's creator in testing the cutting edge of design. Architecture, art movements, indigenous sources, and ecology served as inspiration for these settings. A brilliantly executed analysis of an artistic form, the text is an outstanding summary of significant designs in the last century.
— Marilyn K. Alaimo, garden writer and volunteer, Chicago Botanic Garden