The Human, the Orchid, and the Octopus: Exploring and Conserving our Natural World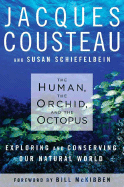 Author:
Jacques Cousteau and Susan Schiefelbein
cloth, 305 pp., $29.95
An ardent environmentalist and recognized authority on the oceans of the world, Jacques Cousteau (1910–97), with his co-author, Susan Schiefelbein, recalls the experiences that led him to become one of the most honored and readily identified persons on the planet. Sparked by an innate curiosity, he explored the deepest oceans, dangerous rivers, and depths of watery caves, answering a silent siren's call that kept him continuously making forays into the unknown in his oceanic research. His spellbinding narrative about hazardous exploits, including wartime covert operations for the French underground, will capture the reader's wholehearted attention. And yet this book is not just a biography of a venturesome modern day explorer and inventor: this volume contains his appeal to the world to consider the future of the planet, including the valued waters that bring life to all their inhabitants. He appreciated the planet's overwhelming beauty, and his words challenge readers to protect its threatened environment.
— Marilyn K. Alaimo, garden writer and volunteer, Chicago Botanic Garden