How to Propagate: Techniques and Tips for Over 1,000 Plants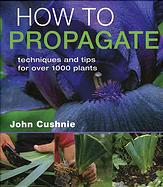 Publisher:
Ball Publishing
Decorated boards, 256 p., $34.95
There is a wonderful feeling of working with nature when propagating plants by hand. An expert with four decades of experience in plant propagation, John Cushnie shares his knowledge with gardeners in this extraordinarily comprehensive primer and reference to plant propagation. The text covers materials, equipment, the different techniques in both sexual and asexual reproduction, as well as aftercare. Color close-up photographs of excellent clarity take the reader through each specific step, assuring success. The author supplies an extensive listing of both indoor and garden plants, citing appropriate methods for each species. He also provides a brief glossary of terminology. Highly recommended for its excellent coverage and highest quality illustrations of the subject, this book is indispensable to gardeners, students, and professionals in the horticulture field.
— Marilyn K. Alaimo, garden writer and volunteer, Chicago Botanic Garden