How to Grow Food in your Polytunnel all Year Round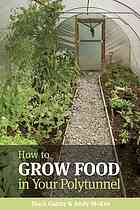 Author:
Mark Gatter and Andy McKee
paper, 192 pp., $19.95
To encourage gardeners to grow food organically, the authors examine the many uses of the polytunnel method of plant culture. The polytunnel is a temporary greenhouse, made from clear, heavy-duty plastic that is supported by metal tubes to form a building. Superbly practical gardeners, the authors enumerate the many uses for the system; report on the calendar of activities when employing this flexible greenhouse in Britain; and list plants that grow best under these conditions. High-resolution photographs detail the interior arrangements for growing different crops. The authors share tips on how to deal with the challenges of pests and diseases, as well as how to provide nourishment to the soil.
— Marilyn K. Alaimo, garden writer and volunteer, Chicago Botanic Garden