Homegrown Whole Grains: Grow, Harvest & Cook Wheat, Oats, Rice, Corn & More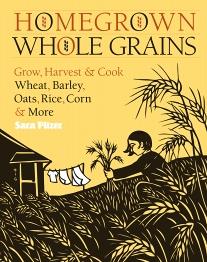 Publisher:
Storey Publishing
paper, 167 pp., $14.95
Author Sara Pitzer has written a work on suitable grains for the homesteader who is interested in growing grain crops that are both nutritious and flavorful. Based on expert advice, she recommends new varieties and grains that are easier to grow and harvest. Following her introductory comments on changing interests in grain production, the author provides basic instruction in crop selection, soil preparation, planting, and harvesting methods. Tips on grain storage and preparing grain for consumption follow this narrative. A short section on recipes precedes a valuable listing of resources for grains, equipment, internet sources, movies, and a bibliography.
— Marilyn K. Alaimo, garden writer and volunteer, Chicago Botanic Garden