Homegrown Honey Bees: Beekeeping Your First Year. From Hiving to Honey Harvest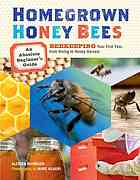 Publisher:
Storey Publishing
paper, 159 pp., $14.95
Filled with practical advice on beekeeping, the author provides the reader with important information for the novice beekeeper. The text combines both technical information and stories from their experiences and that of others. Her tales are instructional and cautionary, so that the beginner is prepared for the occasional daunting experience, such as loss of a hive. The text includes a list of commercial resources, a glossary, and an index. The photographer, Mars Vilaubi, skillfully incorporated illustrations into the text.
— Marilyn K. Alaimo, garden writer and volunteer, Chicago Botanic Garden