The History of Gardens in Painting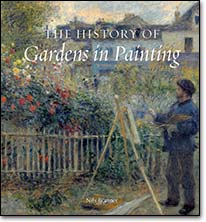 Publisher:
Abbeville Press
cloth, 240 pp., $95.00
The erudite German art historian Nils Büttner reviews the history of painted gardens in this sumptuously illustrated volume, containing representative European works from the past two thousand years. Beginning with the wall frescos of ancient Roman gardens, he then surveys images of garden settings in religious books, decorations on walls of palaces, sacred works in churches, wooden panels, and canvas, pointing out the importance of symbolic motifs and allegorical subjects in the paintings. Seeking to answer the question "why do people paint gardens," he examines in chronological order the characteristic features of the evolving periods, providing suggestions on the interpretation of works through the years. This review of art also contains the development of the medium, as well as changes in society and aesthetic taste, as reflected in painted subjects. In his conclusions, he points out that gardens have always provided comforting settings for artists to express their feelings. He notes that "in every era, people have taken pleasure from the contemplation of both actual gardens and painted ones… ." This superb book surely belongs on the bookshelves of all those who love art and gardens.
— Marilyn K. Alaimo, garden writer and volunteer, Chicago Botanic Garden