The Herb Garden Gourmet: Grow Herbs, Eat Well, and Be Green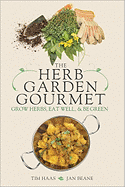 Author:
Tim Haas and Jan Beane
paper, 292 pp., $16.99
Promoting their value for health and flavor, television celebrities Tim Haas and Jan Beane cover the topic of herbs from the garden to the table in this cookbook with gardening tips. Beginning with the many incentives for growing herbs, they devote introductory material to selection and placement of herbs in a garden, urging the reader to consider soil conditions and suitable companion plantings for garden beds and containers. The text that follows has information on growing, harvesting, and using 15 popular herbs in tasty new recipes and familiar comfort foods. A glossary of cooking terminology is particularly helpful for the novice in the kitchen.
— Marilyn K. Alaimo, garden writer and volunteer, Chicago Botanic Garden