Growing Unusual Vegetables: Weird and Wonderful Edibles and How to Grow Them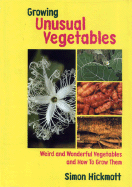 Publisher:
Eco-logic Books
paper, 266 p., $29.95
Interested in growing something new and different in your garden? This book is for the adventurous gardener who is not afraid to try something unusual in edible plants. The author, a British plantsman who was first inspired to grow something unique when he was young, suggests that what is new now may be common in the home garden and a familiar staple on the table tomorrow. What keeps them from the general market today may be the fact that they are slow to increase, difficult to propagate, or are not suitable to commercial cropping. The author describes more than 90 vegetables, organized according to the categories of greens, roots, fruits, seeds, grains, and flavors. Although some plants may be familiar, such as the dandelion, he describes each plant's history, uses, methods of cultivation, harvesting, and varieties. Although the list of suppliers consists of British sources exclusively, the directory includes Web sites and e-mail addresses that are most useful to American consumers.
— Marilyn K. Alaimo, garden writer and volunteer, Chicago Botanic Garden