Growing Hawaii's Native Plants: A Simple Step–By–Step Approach for Every Species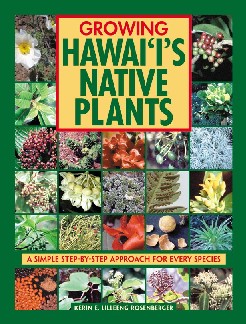 Author:
Kerin E. Lilleeng-Rosenberger
Publisher:
Mutual Publishing
paper, 416 p., $44.95
A world authority on native Hawaiian plant propagation, Kerin Lilleeng-Rosenberger has written a text that is destined to become a classic reference on the subject of tropical plant propagation. As a result of her dedication to and curiosity about growing the native plants of Hawaii, she has attained global recognition by successfully propagating more than 800 species of these treasures through extensive trials. Based on her prodigious work, this reference contains entries with descriptions on propagation and cultivation for each of the 1,204 true existing native Hawaiian species. She shares the results of her research in a text using a clear, easy-to-read style and simple methods. Her goal is to arouse public interest in growing endemic species in order to conserve and restore Hawaii's botanical heritage. With more than 400 high-quality photographs, this is a practical guide for scientists, conservationists, gardeners, and nursery growers alike.
— Marilyn K. Alaimo, garden writer and volunteer, Chicago Botanic Garden