Grow Great Grub: Organic Food from Small Places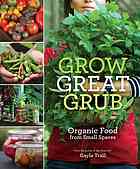 Publisher:
Clarkson Potter
Paper, 208 pp., $19.99
An advocate of growing food in uncommon places, Gayla Trail lays down her recommendations for becoming a "micro-farmer" in this handy primer. She encourages readers to use their imaginations when it comes to selecting sites and choosing containers, prior to reviewing the importance of soil quality and amendments that aid in the health of the plant, as well as composting. A section on the different types of edible plants features vegetables, fruits, herbs, and edible flowers, and includes occasional recipes that will interest the novice gardener. Completing the work are chapters on harvesting and preserving crops. Her tips on crop selection and harvesting reflect the knowledge of a very savvy gardener.
—Marilyn K. Alaimo, garden writer and volunteer, Chicago Botanic Garden