Great Landscape Evergreens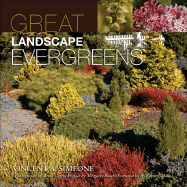 Author:
Vincent A. Simeone
Publisher:
Ball Publishing
decorated boards, 146 pp., $24.95
Featuring plants that retain their foliage through all seasons, Great Landscape Evergreens contains the latest information on these desirable woody plants, including many new cultivars. Author Vincent Simeone, a plantsman of long experience, shares his extensive knowledge of native and exotic species, both needled and broadleaf, which are ideal for landscape use. Simeone's literary style is notable for its clarity and his intelligent critique of plant material. The text contains individual profiles of species with descriptions that reflect the great depth of his knowledge. Following an explanatory chapter that defines terminology, the author discusses conifers, broadleaf evergreens, deciduous, and semi-deciduous shrubs. The text then includes information on site selection and plant care, followed by general information on the use of evergreens for screening purposes. The concluding material contains a list of plant resources and display sites, as well as a glossary of landscape terms.
— Marilyn K. Alaimo, garden writer and volunteer, Chicago Botanic Garden