Great Gardens of America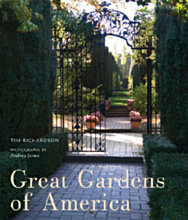 Publisher:
Frances Lincoln
cloth, 304 pp., $50.00
A British garden historian and critic of contemporary landscape architecture, Tim Richardson puts forth his selection of the top gardens in the United States and Canada in this lavishly illustrated volume on landscape design. Gorgeously photographed by the award-winning photographer Andrea Jones, these enchanting sites are generally located on the east and west coasts of North America. Typically these gardens are located on large estates, acting as display gardens. In his appraisal of 25 places, he summarizes the distinguishing qualities of the individual landscapes, ranging in style from colonial to avant garde. He reports on their histories; their owners' interests; designers' goals; and important horticultural collections. Richardson skillfully contrasts the highlighted properties through his organization of chapters, expertly maintaining the reader's interest throughout the book. His critical analyses of the works of leading contemporary landscape architects is insightful and provides the reader with knowledge about the direction of modern design. Destined to be a classic for its scholarly survey, this book is a pleasure to read.
— Marilyn K. Alaimo, garden writer and volunteer, Chicago Botanic Garden