The Great Explorers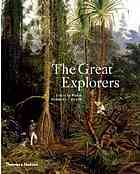 Author:
Robin Hanbury-Tenison (editor)
cloth, 303 pp., $39.95
Written by an international group of travel experts and edited by a well-known explorer, this book covers the famous adventures of 40 of the world's greatest explorers. Beautifully illustrated with paintings, maps, and much more, the book relates the motivations and successes of these inquiring men and women who sought out new frontiers. Beginning 500 years ago with Europeans who charted the routes to countries on the other side of the world to those more recent explorers who looked for new worlds in the sky, beneath the seas, and underground, their stories are fraught with danger and often end in their deaths. Many of these journeys are firsthand accounts and others are from documents of their travels. These voyagers who were driven to explore new frontiers are vividly recalled as examples of enduring courage.
— Marilyn K. Alaimo, garden writer and volunteer, Chicago Botanic Garden