Great Edwardian Gardens of Harold Peto: From the Archives of Country Life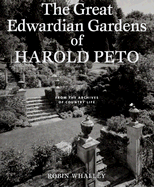 Publisher:
Aurum Press (distributed by Trafalgar Publishing, Independent Publishers Group, Chicago)
The Edwardian era in Britain — the period following the death of Queen Victoria and before the outbreak of World War I — is noted for its garden development, considered by many to be the apogee of garden-making in the British Isles. Harold Peto (1854–1933) began his professional career as an architect, eventually becoming a partner in a successful London firm before he retired to enter the field of landscape design. Although his major works were completed in a rather brief time (1900–14), his influence may be observed in the work of others of this epoch. His treasured landscapes, borrowing on history and his world travels, were classical in style. Fortunately, many of his significant commissions were caught in black and white photographs. These illustrations from the archives of the British magazine Country Life, which accompany the text, recall the vision of this great landscape designer.
— Marilyn K. Alaimo, garden writer and volunteer, Chicago Botanic Garden