Grapes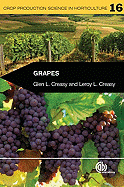 Author:
Glen L. Creasy and Leroy L. Creasy
paper, 295 pp., $70.00
As part of the Crop Production Science in Horticulture Series, the authors of this publication examine the science of viticulture from its earliest origins to its prominence as one of the major horticultural industries today. They note that methods of grape production are rapidly changing and that the fruits of this vine are being grown more widely around the globe than previously, due to advances in science, as well as improvements in technology, marketing, and transportation. The text contains a discussion of the grape's characteristics, grapevine development, popular cultivars, their culture and plant problems, and concludes with methods of harvest and post-harvest processing. Heavily illustrated with photographs and tables, this highly instructive handbook on crop production is meant for advanced horticulture students, novice growers, and all those with interest in the viticulture industry.
— Marilyn K. Alaimo, garden writer and volunteer, Chicago Botanic Garden