Ginkgo: The Tree That Time Forgot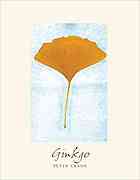 Publisher:
Yale University Press
cloth, 384 pp., $40.00
In this work, Peter Crane recalls the history and importance of one the world's most unique trees, the Ginkgo. Unchanged for 200 million years, it has "one of the longest botanical pedigrees." Former Director of the Royal Botanic Gardens, Kew, the author first tells of his enchantment with an honored Gingko, planted in the eighteenth century at that site, and then proceeds to reminiscence about its origins and ancestry. A durable species, he traces its existence as both a living plant and as fossil remains around the world, noting its persistence as a relic in evolution. This fascinating biography of a single species without any close relatives is a surprisingly lively and absorbing story in the hands of such a learned scholar and world traveler.
— Marilyn K. Alaimo, garden writer and volunteer, Chicago Botanic Garden