Genera Orchidacearum, Volume 5: Epidendroideae (part two)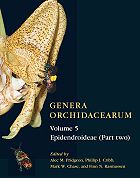 Author:
Alec M. Pridgeon, Phillip J. Cribb, Mark W. Chase, and Finn N. Rasmussen (editors)
Publisher:
Oxford University Press
Cloth, 585 pp., $195.00
Edited by distinguished botanical authorities from the Royal Botanic Gardens, Kew, and the Botanical Laboratory at the University of Copenhagen, this extensive reference on the orchid family, the largest monocotyledon family, contains information from the research of 29 contributors. This sizeable volume contains the most up-to-date results from DNA sequencing with corresponding changes in nomenclature for 186 genera in the largest subfamily in the tribe Cymbideae. Heavily illustrated with maps, line drawings, and detailed color photographs, this is destined to become a classic reference in the field.
— Marilyn K. Alaimo, garden writer and volunteer, Chicago Botanic Garden