Gardenwalks in the Mid-Atlantic States: Beautiful Gardens from New York to Washington, D.C.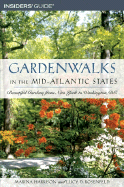 Author:
Marina Harrison and Lucy D. Rosenfeld
Publisher:
Globe Pequot Press
paper, 232 p., $14.95
Garden writers Marina Harrison and Lucy D. Rosenfeld have undertaken an ambitious project in this pocket guide to selected public gardens in Delaware, Maryland, New Jersey, New York, and Pennsylvania. Included with the thumbnail sketches of each place are valuable information on location, directions by car, phone number, admission fees, and open hours of the noted gardens. Unfortunately, the descriptive text is uneven in quality and factual content. There are errors, which are bothersome, to say the least. The authors concentrate their discussions on specific displays; more information on the overall design of a site would be useful to visitors. More careful editing would have made this book more interesting and would have differentiated it from its competition.
— Marilyn K. Alaimo, garden writer and volunteer, Chicago Botanic Garden