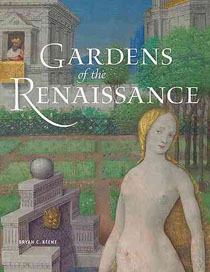 Cloth, 77 pp., $19.95.

The author Bryan C. Keene is a curatorial assistant in the department of manuscripts at the Getty Museum and this book was tied to a Getty exhibition in 2013. It celebrates the Renaissance garden, inheriting traditions established in the medieval monastic cloister and providing the foundations for extravagant Baroque gardens in western Europe. It gathers a wide range of materials from the Getty collection created between 1400 and 1600, with a focus on Renaissance book illumination. Vines wind through the page borders and the Virgin Mary seeks tranquility amid flowers. Members of the nobility wander through plantings admiring their possessions. These images enable the reader to explore varied gardens in the Renaissance, catching details and scenes long vanished.
- Adele Kleine, volunteer, Chicago Botanic Garden.