The Gardens of Portugal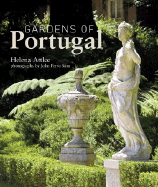 Publisher:
Frances Lincoln
cloth, 175 pp., $60.00
Recognizing that Portugal's varied environmental and social factors affect the character of its landscape, garden historian Helena Attlee divides her survey of 21 private and public gardens into two parts. The first section of the volume contains the lush gardens of Porto and Northern Portugal that offer views of the surrounding countryside and are filled with tree ferns and flowering camellias. Reflecting the lifestyle of the Moorish conquerors centuries ago, the gardens of Lisbon and Central Portugal are enclosed with walls and feature water elements — raised tanks, pools, and fountains, as well as beautiful tiles (azulejos) that cover walls, benches, and pavilions. Primarily built at the height of the nation's prosperity in the sixteenth and eighteenth centuries, these fantastic sites are a fusion of different European cultures, representing the architects, artists, and workmen who completed these works. Most gardens have a baroque charm and certain liveliness with their tiled murals, depicting romantic and humorous figures. The gorgeous photographs by John Ferro Sims skillfully illustrate the author's informative and engaging narrative of the history and beauty of the Portuguese landscape.
— Marilyn K. Alaimo, garden writer and volunteer, Chicago Botanic Garden