Garden wisdom & know how: Everything you need to know to plant, grow, and harvest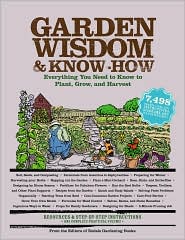 Author:
Judy Pray (compiler)
Publisher:
Black Dog & Leventhal
Paper, 496 pp., $19.95
This oversized volume is sure to have an answer to most gardening questions, as the editors of Rodale gardening books boast that it contains 7,354 charts, lists, tips, instructions, diagrams, and illustrations on all things gardening. Well organized, the general topics include the fundamentals of gardening, specialized gardening outdoors and indoors, landscape design, and garden projects, as well as the not so nice — weeds, pests, and plant diseases. Well known for diverse books and journals on organic gardening, this comprehensive reference continues this advocacy. Although the book appears somewhat daunting from the standpoint of its size, it is relatively light in weight, contains a wealth of knowledge, and has a folksy quality that adds to its charm.
— Marilyn K. Alaimo, garden writer and volunteer, Chicago Botanic Garden