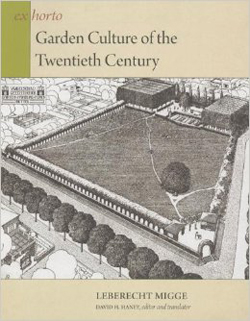 Publisher:
Dumbarton Oaks Research Library and Collection
Paper, 228 pp., $39.95.

Readers have the opportunity in this work to become acquainted with "progressive reform" in Germany, as it applied to garden development during the early twentieth century. Edited and translated by British educator David Haney, its author, landscape architect Leberecht Migge (1881-1935), was an advocate of creating "garden conditions that accommodated and improved the social conditions of modern life." Haney points out in the translation the bias and sarcasm of Migge toward the opposing situation. The text is accompanies by photographs and architects' drawings of proposed and completed landscapes during the Weimer era. - Marilyn K. Alaimo, garden writer and volunteer, Chicago Botanic Garden.