Gaia in turmoil: Climate change, biodepletion, and Earth ethics in an age of crisis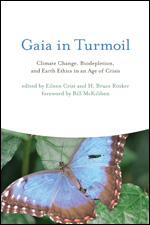 Author:
Eileen Crist and H. Bruce Rinker (editors)
Paper, 371 pp., $27.00
Scientific concerns over the effects of global climate change on the Earth's physical and biological processes are described in this work. Presented as a series of essays, contributors represent many disciplines, including physics, biology, philosophy, and politics. The term "Gaia," used to "personalize a relationship with the biosphere," links these different fields of research efforts. This scholarly work brings together fundamental research pointing to a chaotic situation that will eventually affect every living thing on Earth.
— Marilyn K. Alaimo, garden writer and volunteer, Chicago Botanic Garden