Frederick Law Olmsted: Essential Texts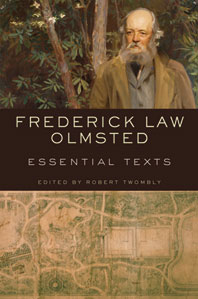 Author:
Robert Twombly (editor)
Paper, 344 pp., $24.95
Frederick Law Olmsted, the most recognized landscape architect in United States history and the author of these papers, was celebrated as a member of the literati, way before he became connected with the field of landscape design. Historian Robert Twombly examines this background and Olmsted's work, bringing to the reader's attention some insightful remarks that put a different slant on this revered figure. The documents that the editor selected were written at different periods of Olmsted's life and reflect his thinking over decades. His travels abroad and in this country during his youth stirred his imagination; his observations of the first park designed for the general citizenry and a tour of a utopian society set his mind on the benefit of publicly owned property and parks in particular. His writing on the design of small residential sites tended to differ with contemporary views of the period. His account of the destruction from the 1871 Chicago fire is reportorial; he tells the facts, noting that local government corruption figured prominently in the catastrophe. In his prime, he begins to mull over his theories on landscape gardening and architecture before the public in articles that would stir controversy. Later in life, he took to promoting his theories by public addresses and articles on the benefits of public parks and pleasure grounds.
— Marilyn K. Alaimo, garden writer and volunteer, Chicago Botanic Garden