Four Seasons of Orchids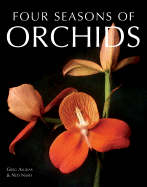 Author:
Greg Allikas and Ned Nash
Publisher:
Creative Homeowner
Stunningly beautiful photographs of blooming orchids by Greg Allikas are inspiring to readers who may not have had the pleasure of growing these exotic flowers. As co–author Ned Nash remarks, gardeners will discover that there are so many species distributed widely in their native habitat that with careful cultivation, growers can have orchids flowering throughout all seasons of the year. Following a brief history of orchid cultivation and a description of native habitats, the text concentrates on the basics of growing orchids, the equipment needed, methods of repotting, and tips on growing different types in the home.
— Marilyn K. Alaimo, garden writer and volunteer, Chicago Botanic Garden