Fountains and Water Features: From Ancient Springs to Modern Marvels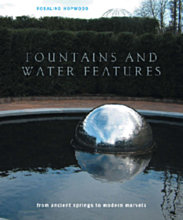 Publisher:
Frances Lincoln
cloth, 208 pp., $64.00
Art historian and a dedicated scholar of the subject, Rosalind Hopwood traces the fascinating history of water elements in the landscape in this volume, prolifically illustrated with dazzling photographs and rare drawings. Hopwood ably describes the settings and backgrounds of fountains over time. Beginning her study in ancient times, the author notes the significance of water in Egypt, alongside the early development of irrigation systems. She continues with the Romans' construction of aqueducts to provide water for utilitarian purposes as well as for pleasure. The development of hydraulics for water control, initiated by Islamic engineers, was further refined by Italians during the Renaissance. She then reports on impressive water features that dominated extensive formal gardens all across Europe and the effect of the new technology during the Industrial Revolution on the landscape. The final chapter is a celebration of the effects of water displays during contemporary times.
— Marilyn K. Alaimo, garden writer and volunteer, Chicago Botanic Garden