Forest Guardians, Forest Destroyers: The Politics of Environmental Knowledge in Northern Thailand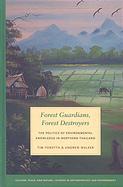 Author:
Tim Forsyth and Andrew Walker
Publisher:
University of Washington Press
In compelling prose, authors Tim Forsyth and Andrew Walker, who have deep knowledge of the conditions of the population and long experience with the challenging problems of Thailand's environmental issues, bring to the reader's attention new scholarship that revises previously held opinions about deforestation. Their goal is to revise the current thinking, which they consider politically biased, in favor of a more careful, up-to-date analysis of conditions so that environmental problems may be more properly addressed in Northern Thailand and also in developing countries around the world. Their review considers such aspects as mountains, rivers, and regulated forests; ethnic populations; forest conservation; water and erosion issues; the effects of agrochemicals; and biodiversity.
— Marilyn K. Alaimo, garden writer and volunteer, Chicago Botanic Garden