Flowers for the Home: Influences From the World Over by Prudence Designs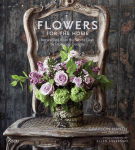 Author:
Grayson Handy and Tracey Zabar
cloth, 189 pp., $40.00
Professional florist Grayson Handy, creative director of a New York City flower shop, Prudence Designs and Events, presents his interpretations of nine cultures around the world in floral decorations. Using imaginative accessories to evoke each theme, the floral artist playfully adds flowers, ranging from simple bouquets and wreaths to petals strung on cords and as singular accents. Providing guidelines for creating and maintaining floral arrangements, he supplies a list of equipment needed for arranging flowers. He encourages the reader to seek out unique and exotic containers and gives instructions for creating each of the featured arrangements. An address list of suppliers of decorative furnishings and accessories is noted in a resource directory.
— Marilyn K. Alaimo, garden writer and volunteer, Chicago Botanic Garden