Flora of the Santa Ana River and Environs With References to World Botany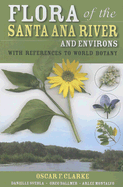 Author:
Oscar F. Clarke, Danielle Svehla, Greg Ballmer, and Arlee Montalvo
paper, 496 pp., $29.95
Under the leadership of an eminent herbarium curator, Oscar F. Clarke, fellow botanists and a team of naturalists gathered information on 900 of the 1,400 plant species that are found on the coastal plain of Southern California. This comprehensive work, the first of its kind for the region, is notable for the depth of its information, which includes not only native plants but also ornamental and utilitarian species found in the garden. Remarkable illustrations of the individual profiles highlight the features of each species.
— Marilyn K. Alaimo, garden writer and volunteer, Chicago Botanic Garden