The Firefly Dictionary of Plant Names: Common and Botanical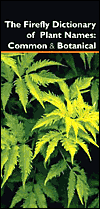 flexible covers, 440 p., $24.95

This is is a well-organized, handy dictionary with a list of common Latin epithets, followed by sections on common names organized by types of plants: alpines, aquatics, bulbs, cacti, fungi, grasses, herbs, houseplants, orchids, popular garden plants, trees, bushes and shrubs, and wildflowers. The next section of the book follows this same format. Thirty thousand North American, European, and United Kingdom names are included. This dictionary is a useful reference work; the list of epithets alone makes for interesting browsing, just as to speculate on the derivations of names.
— Elizabeth Tremulis, volunteer, Plant Information Office, Chicago Botanic Garden