Farm City: The Education of an Urban Farmer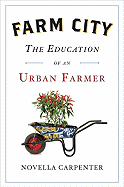 Author:
Novella Carpenter
cloth, 276 pp., $25.95
Readers may feel that Novella Carpenter, a freelance writer, opens up a Pandora's box of legal, health, and social issues affecting the urban gardening movement when telling of her illegal efforts to create a farm in an urban ghetto. Fond of the cultural amenities and employment that a city has to offer, the author says she still longs for the rural existence where she was raised. Following through on this yearning, she reports on her lifestyle and her endeavors to establish a sustainable homestead in an apartment in Oakland, California, beginning with self–sufficient bees and then turning to the more demanding care of livestock. The language used is frequently earthy and barnyard specific.
— Marilyn K. Alaimo, garden writer and volunteer, Chicago Botanic Garden