Emil Nolde: Mein Garten voller Blumen; My Garden Full of Flowers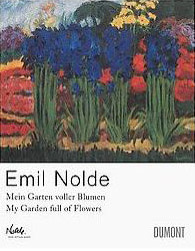 Publisher:
Nolde Stiftung
Decorated boards, 132 pp., $44.95
<p">Little known in the U.S., Emil Nolde (1867–1956), the impressionist painter whose works focused on flowers, is well remembered for his innate connection with nature. This biography of the artist, published in conjunction with the 2009 exhibition of many of his paintings at the Berlin Extension of the Nolde Foundation Seebüll, affords the reader an introduction into his world and the flowers that meant so much to him, as both an artist and gardener. His real name was Hansen, and he was born the son of a farmer in the village of Nolde on the German–Danish frontier. Trained as a wood carver, he turned to ornamental drawing prior to becoming a freelance painter. The text and illustrations trace his life story and career, one that was marred by Nazi confiscation of his works, which were designated as "degenerative art." This fabulous documentation is written in both German and English, with abundant color illustrations.
— Marilyn K. Alaimo, garden writer and volunteer, Chicago Botanic Garden