Edible Estates: Attack on the Front Lawn Second Edition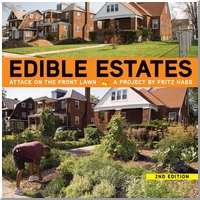 Publisher:
Metropolis Books
Paper, 175 pp., $24.95
Fritz Haeg acts as the editor of this book that focuses on a series of gardens that reflect a growing interest in planting food crops instead of lawns. A number of diverse sites are described, located in urban and suburban locations across the U.S. and in Britain. Although several are essentially demonstration gardens, connected with public sites, the majority of case studies are located in public areas on single owner properties. Photographs of properties before and after (when the gardens are in full production) are interesting. Unfortunately, this book lacks illustrations of these gardens when annual plantings are gone.
— Marilyn K. Alaimo, garden writer and volunteer, Chicago Botanic Garden